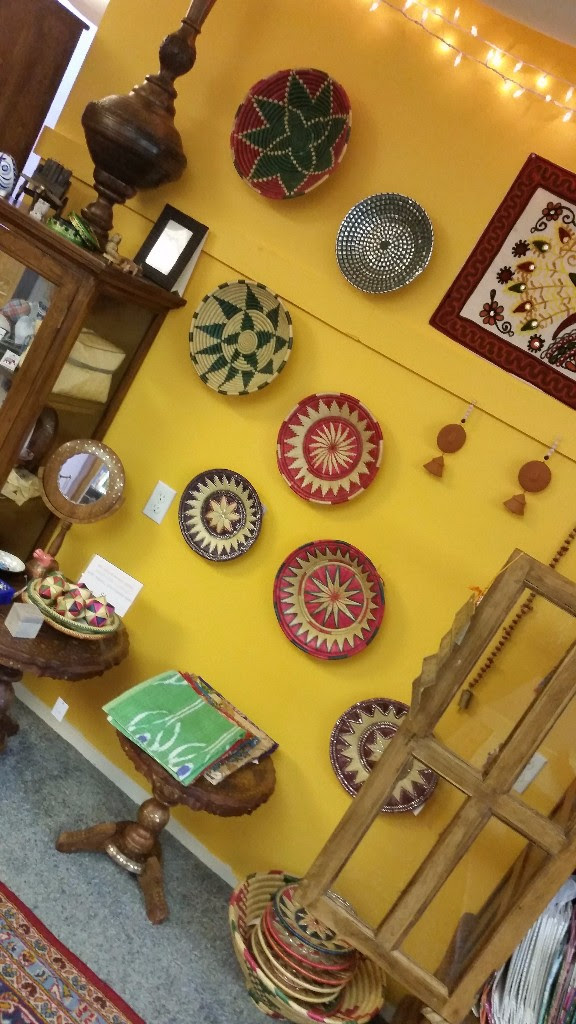 In 2005, Francesca visited the family of a close family friend in their village in Uttar Pradesh. While in the village, she fell in love with the baskets the women made for their homes. The traditional handicraft of basket weaving is still passed down through the generations of women. All of our baskets are made by those same women in the styles and patterns they learned from their mothers and grandmothers.
In order to make the baskets, local grasses are cut and collected to dry in the sun. Once dry, the grass is dyed using a variety of natural materials. It is then left to dry again. The colored grasses are then interwoven with the natural colors to create a variety of patterns. Sometimes sequins are woven in to add a bit of glitter. The baskets can take up to six weeks to weave depending on the design and on the skill of the weaver. It can also depend on the amount of other work the weaver must do to help support her family. Weaving can be hard on the hands as the grasses are stiff and sharp. Because of this, and the time it takes to learn the skill and to create the baskets, the art is being lost in favor of plastic containers from China.
The women traditionally make these baskets for chapattis (small flat bread similar to tortillas), to cover the mouths of water jugs, or to hold vegetables. They range in size from small and flat to large and deep depending on the intended use. The baskets in the shop are made exclusively for us by women in our friends' village using their traditional techniques, colors, and patterns. The baskets have become a new income stream as well as a way to preserve the craft.
At Sankara we carry a selection of baskets ranging from small boxes to bread baskets to wall baskets and larger ones perfect for storing towels, scarves, and toys. Come find your next favorite storage and decor basket in the shop!